WatchCarefully Review: 2007 Rado Golden Horse
Model R84.832.153
C. Bradley Jacobs
23 July 2007
Since the 1950s, Rado has produced dozens of models and tens of thousands of watches bearing their sea horse logo, many also including the word "horse" in the name. Bound mainly for markets in Asia, models such as the Green Horse and Purple Horse became icons, but the Golden Horse was among the first major models of what was to become a staple in the longevity of the brand. Rado has chosen this model name for a re-edition watch exhibiting the classic style of the first watches introduced in Japan in 1958. Offered only for the Japanese market, the 2007 Golden Horse is available with steel case and bracelet (dial of black or silver) or in a rose gold-plated version with silver dial, on straps. Limited quantities of this watch are being produced—rumors have suggested that 1000 or fewer will be available, though whether this represents total production, or production per model number, is unknown as yet. A Rado press release can be found
here
.
Though this watch is only intended to be sold in Japan, there are dealers on-line who will ship outside their home country, and Westerners who are obtaining watches in Japan for sale abroad. It is through one of the latter that I acquired the watch being reviewed here.
Initial reaction to seeing this watch upon its arrival was a blend of apprehension and amazement. I rarely buy a brand new watch, and certainly not without examining a similar watch in person. I took a chance that this would be worth the price (MSRP 136,000 Yen or something under $1100) and am not disappointed. The packaging is minimal for a modern production watch, but is very much in keeping with fine vintage watches. The box is not large (saves room in the safe!) and is covered in green pleather, with black plastic edges; inside are a silk lining and suede-like felt base and watch cuff. Nothing is fancy though boxes aren't where the buyer of a watch in this price range wants to spend much money anyway.
The watch itself was amply wrapped in protective plastic and vinyl; after a quick inspection and removal of the coverings on various surfaces, the watch was fully revealed. It really looks like a vintage museum piece. Shiny surfaces abound; the acrylic crystal with cyclops appears to be the real deal (albeit sans Rado anchor logo on the inside); the size, shape, dial and markers all make this appear to be an authentic old watch. But subtle differences betray modern sensibilities--a fast-beat hacking movement, the large screw-down crown between modest guards, solid end-links and smooth push-button clasp on a bold bracelet. The overall quality is such that this must be a modern watch, but one that accurately reflects the style of a storied brand.
The polished steel case measures 35.5 mm across (38 mm with the ample and easily-grasped crown) and 12 mm thick. The lug width is 18 mm and the bracelet tapers to 16 mm at the clasp, which is slightly wider and features engraved sea horses. The bracelet offers nine removable links, making it easy to fit to most wrists. Present on the screw-back, a faithful homage to early Rado watches, are three common elements: the model number, serial number and the "Water Sealed" logo, again with sea horses. The only modern concession is the water resistance rating indication (100m).
As with nearly all Rado automatics, the anchor logo is present in all the right places and configurations. A raised logo is on the screw-down crown, the anchor is printed inside and outside of the box, and the famous spinning logo is mounted on a red field on the dial. In use since 1962, the spinning anchor symbolizes both the automatic rotor and a pinion seated in a ruby jewel. It is a patented feature of Rado self-winding watches. The dial, which is matte black, has some lovely features including applied faceted markers and a subtle ring of a slightly darker finish beneath the markers, giving a two-tone (very retro pie-pan) effect. The printed text is somewhat raised and very sharp; it stands out nicely on the black dial of this model.
The movement inside the Golden Horse is the ETA 2824-2, making this as much a work horse as anything else. This is not surprising; Rado has been using ETA movements for more than three decades and is also a member of the Swatch Group. The original Golden Horse models probably used a Felsa or A. Schild movement, but for such a re-edition as this, finding a store of such movements would likely be more trouble than it is worth, and also does not fit with Rado's way of doing things. They are a company focused on quality, and the sacrifice of a minor point of authenticity in favor of reliability and cost savings is probably welcome to most buyers. Accuracy is not an issue with such a proven movement as the 2824, though Rado provides a 2-year warranty just in case.
As a fan of Rado design & history and of mechanical watches in general, I am pleased to see Rado offering more automatics in their product ranges. Though the United States is likely to be last in line for many such special-issue automatics (Japanese dealers are also able to offer round-case DiaStar autos & chronographs; a DiaStar "Super 6" with display-back is also being offered outside of the US & Europe), North American dealers are able to stock the Sintra and Integral automatics, including some for women. Rado's updated DiaStar automatics, known as "The Original" are also widely available, including divers' models. Rado fans are still awaiting the arrival of the Valjoux 7750-based DiaStar Original Rattrapante, introduced this year in Basel—with luck this merely heralds a growing trend for a historic and important brand to return to it's mechanical watch roots and, perhaps, once again to cater to the collector of mechanical watches.
For reference, here are some images of old, newer, and new Golden Horse models: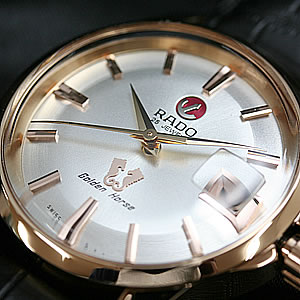 Author's note: In 2008, a chronometer-certified version of this watch was also offered by Rado, in Japan. Some re-sellers in USA have also made this model available since, though I am unsure whether RADO USA officially offered it as a catalog item.