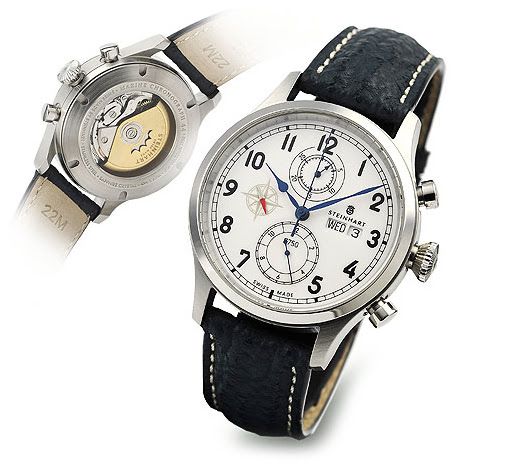 870 EUR 19% VAT incl.
732 EUR without 19% VAT
Swiss Made - 2 years warranty
(From Steinharts Website)
In the 18 Century, the carpenter John Harrison developed on behalf of the British government a precision instrument for accurate determination of longitude at sea, the first marine chronometer. These high-precision chronometers, gimbal mounted in wooden boxes where mainly built for the Navy in Hamburg, Kiel and Glashütte. They where used on many marine vessels until the invention of the quartz movement and are highly collectable items today. As a tribute to the craft and to be able to enjoy looking at this classic design on the wrist, STEINHART has developed the Marine Chronograph 44.. Powered by a precisely working Swiss automatic movement with chronograph complication, stored in a brushed stainless steel case, one can admire the stunning technology of this instrument throught the exhibition case back at any time. Under the domed, double-coated sapphire crystal of the front one is immediately captured by the timeless classic look of the old marine chronometers, complemented by date and weekday display as well as the running second at 9 clock in the form of a discreet compass rose combined with a two colored compass needle - another tribute to the services at sea from days gone by before satellites and GPS. Stylishly secured to the wrist by a shark leather strap in dark blue, which complements the iridescent color of the hands gorgeously, the STEINHART Marine Chronograph 44 is an elegant and accurate companion that should be part of every watch collection.