I'm amazed. I'm sure the design isn't everyone's cup of tea, but the technology and execution of this is stupendous:
1bdbcb301bff26d8a9de239e12a4462618dce990.jpg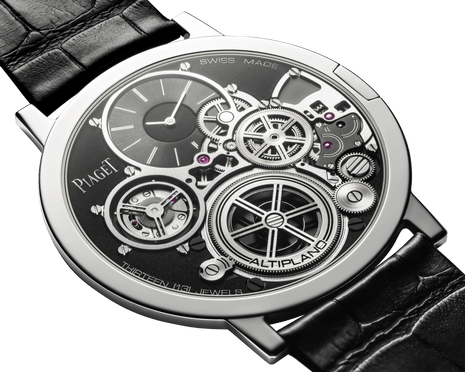 It is 2mm thick.
Reimagining completely many of the fundamentals of watchmaking, Piaget mounted several ball-bearing mechanisms directly onto the frame, such as the the barrel. This features an innovative and distinctive construction and was designed without a cover or a drum. At 9 o'clock, also mounted on a ball-bearing mechanism, the construction of the regulating organ has been entirely redesigned. The balance-wheel bridge has vanished. The balance wheel and spring are pinned up to the collet and inverted, meaning that the balance wheel appears above the balance-spring. The absence of an index assembly is compensated by an adjustable balance-spring stud. This set of solutions enables a significant reduction in the thickness of the regulating organ, while guaranteeing its precision, isochronism, and a power reserve of no less than 44 hours.

A watch that breaks so many rules was never expected to have a traditional crown. Instead, a flat-shaped "telescopic" crown is recessed smoothly against the case band. The control device is equally unprecedented, with selective control of a time-setting and winding device. For maximum thinness, it features an "infinite" screw positioned directly at the same level as the toothed wheel instead of being superimposed.

Even the watch crystal has been rethought for record-breaking thinness. Integrated directly within the case, despite being only 0.2mm thick, it still provides a water resistance of 3 ATM.
a8c52eeafaa8d89af4697dffb1c5ec3bfdb90600.jpg